Facial Fotona 4D Skin Rejuvenation
If you desire tighter, smoother skin with a sharper jawline, lifted brows, and a more youthful version of yourself? The Fotona 4D Facial Rejuvenation protocol simultaneously targets redness, lines, and wrinkles and can be used anywhere on the face, chest, or body. The result is a beautiful rejuvenation of the treated area.
The Fotona Dynamis Pro laser accomplishes visible results by providing up to four dimensions of collagen restoration to work on deep, middle, and superficial layers of the skin.
The Fotona Laser system treatment consists of a series of 30–60-minute sessions, leaving you with long-lasting results that build gradually and naturally over time. Downtime is minimal, meaning patients can return to their daily activities immediately.
We now offer specialized treatment packages that reverse the collagen loss you may have experienced through the natural aging process.
Dr. Page typically recommends 3-5 sessions spaced 3-6 weeks apart, however, a personal protocol will be crafted for you upon consultation. Schedule your visit to see if the dynamic Fotona Laser system can help you achieve the skin of your dreams!
Kelly, Patient of WIFM
Treatment: 4 – 4D Facials with Liplase (only 3 neck) and 4 vials of Sculptra  (2 vials Sculptra, 6 weeks apart)
Constance, Patient of WIFM
Treatment: 3 – 4D Facials – 4 vials of Sculptra  (2 vials Sculptra,  6 Weeks Apart)
Transform Your Confidence
Don't miss out on the opportunity to experience the powerful results of Fotona Laser Treatment. Take action now and schedule your appointment to enhance your natural beauty today! Transform your skin and boost your confidence with this revolutionary treatment.
Fotona Liplase
JoAnn, patient of Wisconsin Institute of Functional Medicine
Fotona SMOOTH® modality Er:YAG provides an immediate response that patients will notice. In contrast to injectable fillers, the LipLase™ treatment is non-invasive, and there is nothing artificial as patients develop their own collagen in their lips. With several adjusted passes the characteristics of 'ideal lips' can be achieved such as fullness, volume, correct balance between the upper and lower lips and a well-defined vermilion border.
For even deeper collagen stimulation Nd:YAG laser in PIANO mode is used, which is the safest mode for reaching deeper lying skin tissues, with minimal thermal effect on the surface.
Fuller, smoother lips
Stimulates collagen remodeling
Initiates new collagen synthesis
No needles, no downtime
Reveal a Radiant Complexion
Take the next step towards flawless skin today! Book your Fotona Laser Treatment session now and experience the transformative power firsthand. Don't wait any longer to unlock your skin's true potential.
Fotona Starwalker MaQX Laser
Melanin is the natural pigment present in our skin, hair, and nail and is responsible for giving it its color. The amount and distribution of melanin determine how dark the color is. Moreover, various factors stimulate the production of melanin in our body, including exposure to sunlight, hormones, family history, skin injuries, etc.
A person with increased melanin production and deposition is said to be suffering from skin pigmentation. It can occur at any point in life, regardless of age, gender, or ethnicity. Hyperpigmentation or skin pigmentation is defined as a condition where the skin gets darker, and this may occur all over the body, either in patches or small spots.
Café – Au – Lait Macules: these coffee-colored stains are usually present since birth.
Nevus of Ota and Nevus of Hori: the excess pigmentation in the deeper layers of the skin makes it difficult to remove.
Seborrheic Keratosis: occurs with aging as hyperpigmented skin growth in late adulthood.
Freckles: These are tiny brown spots that occur on the cheeks and below the eyes on the surface.
Age spots: also known as sunspots or sun lentigines. They may occur in any area that is exposed to harmful rays of the sun.
Melasma: they are large patches with uneven areas of normal skin color and skin pigmentation most commonly occurring on the face.
Post-inflammatory hyperpigmentation: This type involves increased melanin production after any injury or inflammation of the skin.
Melanoma: or skin cancer that occurs due to exposure to UV lights and usually presents itself in irregular shapes or multiple colors.
*Melanoma is not treated with the laser & you should be evaluated by your dermatologist if you have a pigmented spot that is similar to the picture above.
Pigmentation laser treatments use different types of laser and laser devices that target light energy on the subject area and break down the melanin pigments present there. The pigment laser is only absorbed by the pigmented area while the surrounding skin remains safe.
We're proud to be among a few elite clinics with Fotona's StarWalker ® MaQX Ultra Performance, Q-Switched System. This next-level laser is quickly becoming the top choice for melasma treatment. Men & women see even-toned, glowing results without worrying about skin damage or downtime. Fotona's QX MAX is recognized globally as the newest pinnacle in high-level laser systems. Whether your pigment is caused by scarring, sun damage, or hereditary reasons, we'd love to see you for a skin assessment and help you reveal a radiant, healthy complexion.
Fotona Hair Treatment
Fotona Laser Hair Restoration can take only weeks, not several months, to see results. Using a customized protocol, the energy from the laser stimulates dormant hair follicles without anesthesia or surgery.
The Fotona PS03 handpiece is moved back and forth directly on the scalp several times in a crosshatch pattern. The area will appear red for 24 hours and it is recommended that you avoid a hot shower immediately post treatment. The treatment area(s) may feel a little tight or swollen, but this subsides within a few days. The great thing is no one will be able to tell you had anything done!
It takes about 8-12 laser sessions, at 2-week intervals, but then you can expect a fuller head of hair. For more complicated and severe cases, Dr. Page may recommend combining laser treatment with PRP therapy, a great treatment combination that has delivered dramatic results to our patients.
Fotona Body Tight Sculpting
If you are looking to sculpt and tighten loose skin anywhere on the body, our Fotona's Tight Sculpting protocol can provide you with the exceptional results you desire. Fotona Tight Sculpting is an excellent option for smoothing areas of the back, waist, hips, upper and lower abdomen, arms, and legs. Even stubborn fat under the chin can be reduced! You have worked hard to lose weight, but you may have some areas that didn't respond, well this is perfect to help you achieve your desired result.
Fotona Tight Sculpting works through delivering dual-wavelength laser energy to achieve permanent fat melting and collagen remodeling. As the fat melts, the skin also becomes tighter and smoother. Over the course of your Fotona Tight Sculpting treatment, the effects will build to gradually contour your figure and leave you with results that are both dramatic and long-lasting.
The Fotona Tight Sculpting procedure is fast, safe, and serves as an excellent alternative to laser lipolysis and liposuction — requiring no recovery time whatsoever!
Fotona for Acne and Acne Scarring
Acne can greatly affect your confidence in your appearance. The Fotona's Dynamis Pro is one tool we can use to help restore your glowing skin and diminish blemishes, so your natural beauty shines.
Fotona offers a laser acne treatment protocol that provides a truly comprehensive solution. First, we will use the Fotona's precisely controlled Nd: YAG wavelength to target active acne breakouts. The laser penetrates your skin and targets overactive sebaceous glands, reducing the risk of new acne inflammation. Next, the Er: YAG wavelength is used on the top micro-layers of the skin to vaporize scarred tissue and stimulate the production of new collagen in the dermis, eliminating pesky acne scars through gentle resurfacing. The result: fewer breakouts, fewer scars, and smoother, more beautiful skin.
Unlike chemical peels and dermabrasion, laser skin resurfacing allows the penetration depth to be precisely controlled. Which results in improved skin texture and tone while still protecting the delicate layers of the dermis.
Treatment is quick and has minimal downtime. If your acne is mild to moderate, we may recommend between 3-6 sessions. If it is more severe, we recommend between 6-9 sessions. As always, a customized and comprehensive treatment protocol will be determined at your initial consultation.
Fotona Smootheye Treatment
When you look at your eyes do you notice dark circles, bags, crow's feet & a look of being tired? We now offer the Fotona SmoothEye treatment, a non-invasive laser that helps address skin laxity, dark circles, creepiness in the upper & lower eyelids.
Our laser aims to tighten the periocular region and reduce the presence of periorbital wrinkles. Our laser technology is non-ablative and stimulates collagen remodeling and contraction. The entire periocular region is covered, significantly improving laxity, creepiness, and hyperpigmentation while improving skin tightness and texture. This gentle and precisely controlled laser utilizes specific modalities, which initiates collagen production which results in little-to-no downtime with maximal results. You can expect:
Immediate freshness and tightness of the periocular area
Stimulates collagen remodeling and initiates neo-collagenesis
Little-to-no downtime
Gentle, fast, and non-invasive
Safe and precisely controlled
Fotona Skin Resurfacing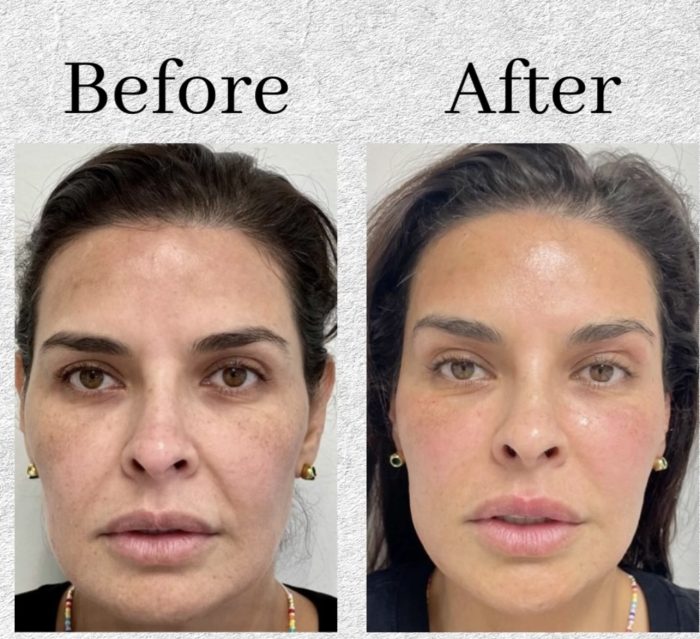 The collective desire to stay forever young has created an enormous market for anti-ageing treatments. Recent developments in laser technology are now delivering a longer lasting and scientifically proven method of restoring the natural beauty of the skin. Unlike traditional treatments such as dermabrasion and chemical peels, the unique characteristics of laser skin resurfacing allow more accurate and precise control over the treatment process.
Skin resurfacing and rejuvenation treatments can be performed either in ablative modes with an Er:YAG laser or non-ablatively with a Nd:YAG laser, depending on the particular aesthetic outcome that the patient and practitioner wish to achieve. In addition, ablative and non-ablative treatments can also be combined into a comprehensive anti-aging treatment, such as Fotona's TwinLight® Fractional Rejuvenation system.
Introducing TwinLight® Fractional Rejuvenation
Past skin rejuvenation procedures treated large areas of skin, whether aged or not. But with Fotona's revolutionary TwinLight® Fractional Rejuvenation method, the laser light precisely targets imperfections in the skin, leaving the surrounding healthy skin untouched. The heat from the laser energy also stimulates the production of new collagen in the dermis, and the surrounding, untreated skin helps to speed the rejuvenation process.
A Simple and Effective 3-Step Solution
TwinLight® Fractional Rejuvenation is a simple 3-step procedure optimized to significantly improve skin smoothness and give it a fresher, healthier look. The deep heating effect of Fotona's Nd:YAG laser beam helps rejuvenate and stimulate the skin, while the Er:YAG beam helps the body to form new, tighter skin.
Step 1 – Conditioning: An Nd:YAG beam is passed along the surface twice. The first pass provides a short stimulus to the skin, the second pass penetrates the tissue, causing deep FRAC3® heating and conditioning the skin for an effective fractional treatment therapy.
Step 2 – Fractional therapy: Old, worn-out skin is ablated away by a fractional Er:YAG laser. The precise micro-ablated channels will be replaced with new, tighter and healthy tissue as new skin forms.
Step 3 – Peeling: The skin is ablated with a light full Er:YAG beam, which finishes the treatment and removes superficial imperfections.
Fotona Scar Revision
The minimally invasive nature of laser scar-revision treatments means that they are well tolerated by patients, and faster recovery times allow the psychological impact of scar revision treatments to be realized much sooner by patients.
Harnessing the Medical Power of Light
Lasers are ideally suited for the effective treatment of a wide range of scar tissues. Er:YAG skin resurfacing is used for gentle ablation of scar tissue and activation of collagen remodeling. Acne scars in particular respond well to Er:YAG treatments. For hypertrophic scars, clinical research conducted with the Nd:YAG wavelength show further improvement in the aesthetic appearance and overall tissue quality of a scar, including erythema, volume, pliability, etc.
A Synergistic Treatment Solution
With Fotona's pioneering dual-wavelength scar-revision therapy, both nonablative Nd:YAG and fractional-ablative Er:YAG wavelengths are combined as part of a single comprehensive scar-treatment regimen, with immediate visible results that surpass that of traditional laser-based and conventional scar treatment techniques. Dual-wavelength scar treatment therapies provide a highly effective solution that not only addresses a scar's aesthetic appearance but also helps to resolve complicating factors with the scar's vascular feeding system.