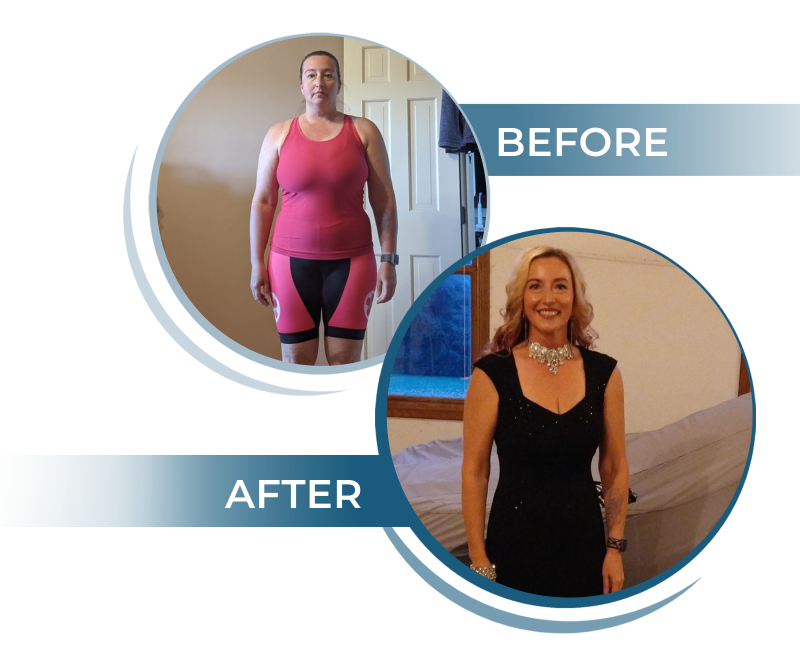 "To have someone say 'yes, we can help you with this,' was life-changing."
Katie
Katie's Results
Eliminated GI issues
Lost 60 pounds
Increased energy
Lowered A1C levels
No longer pre-diabetic
When Katie first started working with us a little over a year ago, she was exhausted. She had been experiencing gastrointestinal (GI) issues, constant fatigue and back pain for years, but none of her conventional doctors could give her any answers or solutions.
After a year of battling her increasing GI problems and chronic fatigue, she reached out to try a different approach. Read on to learn about Katie's successes on her journey to healing.
Katie's Journey
As soon as Katie began working with Dr. Page, she immediately knew this process would offer more answers and solutions than the conventional methods she had tried in the past.
"Dr. Page is a fantastic listener and takes time to gather all the information and data she needs to be effective," Katie explained. "It was a huge difference meeting with her compared to typical doctors, where you only get 20 minutes. I finally felt like I had someone on my side who was really listening to what I was saying and taking my pain seriously."
Throughout this process, Katie discovered that she had a considerable hormone imbalance. Her A1C levels were so high, she was pre-diabetic, and she was also low on many key hormones she had never been tested for before.
With this new knowledge in mind, Dr. Page developed Katie's protocol to get her hormones in balance and address her GI issues and back pain. This included hormone replacement therapy, as well as weight loss.
"I didn't go into this with a goal to lose weight, but I knew it would probably be an extra bonus," Katie explained. "Since I started my journey, I've lost a total of 60 pounds. As someone who lived through diet culture and has struggled with losing weight my whole life, it was crazy to see that something was finally working."
Most importantly, Katie was finally able to get her GI issues under control just a few months into her journey and has recently been experiencing better sleep and higher energy levels than ever before with the help of regular B12 injections.
Katie's Advice for Others
"Two things. Number one: be patient with the process; it takes time. Hormone levels don't change overnight and weight doesn't come off all at once. This is a journey, and it's worth it.
"Number two: don't settle. So many of us as women are used to being pushed aside and disregarded by our doctors, and I'm proof that you can get the support you deserve."
Ready to improve your quality of life?
Start your journey today!